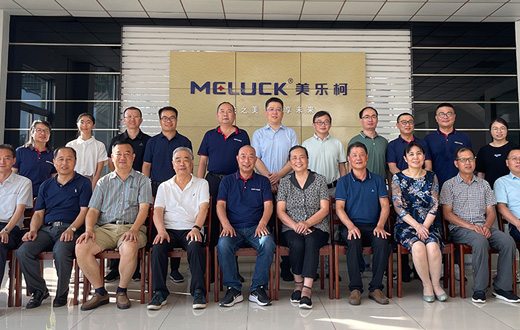 On the afternoon of July 21, 2021, many experts in the field of refrigeration led by Honorary Chairman Fan Gaoding, Chairman Shi Min, Vice Chairman Qiu Ning and Secretary General Zhang Xiuping of Anhui Refrigeration Society braved the scorching sun and scorching heat to come. Went to Melalco Group for technical inspection and exchange. The company leaders such as Chairman Chen Jianping, General Manager Guo Xianzhong, and technical consultant Professor Wang Tiejun gave warm reception and held a symposium.
At the exchange meeting, Chairman Chen Jianping, on behalf of the group, extended a warm welcome to the experts of the Society, and also expressed sincere thanks for the technical support and guidance given by the experts of the Society in the refrigeration and air-conditioning industry, and hoped that the experts of the Society would be able to subdivide the refrigeration and refrigeration in the future. More attention and help are given to enterprises in the field. Li Zongsheng, a second-level researcher of Xuancheng Science and Technology Bureau, and Zhou Fei, director of Xuanzhou District Science and Technology Bureau, who attended the meeting, gave speeches respectively and explained in detail the location, transportation, resource advantages, support policies and industrial orientation of Xuancheng High-tech Zone.
During the meeting, Deputy Secretary-General Wu Junfeng made a report entitled "Current Situation and Development Trend of Cold Chain Logistics Industry" on behalf of Anhui Refrigeration Society. Deputy Secretary-General Wu elaborated on the refrigeration and refrigeration industry through specific data analysis and comparison of international and domestic industries. background, development status, market demand and future prospects. General Manager Guo Xianzhong introduced the company's corporate culture, operating conditions, main products and technical conditions on behalf of Melalco Group. The two sides also conducted in-depth exchanges on technological development, market opportunities, product technological innovation, energy-saving standardization and future cooperation.
After the exchange meeting, the members of Anhui Refrigeration Society also visited the group's production base and had a further understanding of the production scale and product status of our group.
We believe that this technical exchange between Anhui Refrigeration Society and Melalco Group will not only open up new ideas for the development and advancement of refrigeration and refrigeration technology, but also look forward to more in-depth and extensive cooperation and achievements between the two parties in the future.